Three years ago I wrote about Apple's Restrictions as a great option for a Quick & Easy Cell Phone Web Filter for Kids. Restrictions allow users of iPhones or iPads (or the teacher or parents of users) to limit the ratings on apps, movies, TV shows, block explicit lyrics on Apple music and podcasts, prevent app installs and/or deletions, block apps, limit adult content on websites, and block certain websites. Restrictions are something I think all parents should have in place if their child has an iPhone or iPad. For Android users, start here.
In Minnetonka, we have already set Restrictions in place for our students on their school issued iPads through our MDM (Mobile Device Manager). Minnetonka school iPads also have school filtering software in place blocking access to inappropriate sites regardless of whether the device is at school or off campus. In addition to the built-in filtering on students' iPads, teachers and/or parents of grade 6-12 students may also consider using additional Restrictions, including blocking websites such as YouTube if necessary.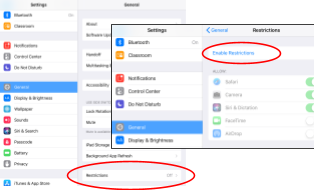 YouTube has many educational videos and teachers use it regularly for instruction. Blocking YouTube prevents a student from accessing these resources, completing homework and learning. Many things can be both entertaining and educational. While teachers work with students about appropriate and responsible use of tools like YouTube, the District also encourages parents to help guide their children in exploring this aspect of technology, as navigating such sites is becoming a necessary skill for their future. The District's position is that restricting access to YouTube should only be used temporarily with a goal of getting students back to managing it without restrictions and balancing their use of the tool for entertainment with the need to complete homework in a timely manner. View our instructions on setting up Restrictions.
Another option available to students and parents is to use Guided Access. Guided Access temporarily limits iPad use to a specific app or allows teachers and/or parents to set up time limits for iPad/iPhone use. View instructions on Guided Access.
Related posts and information: